What St. George's School says…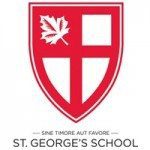 Founded in 1930, St. George's School is a world-class boys' university preparatory school, offering a day program in Grades 1-12 and an Urban Boarding program in Grades 8-12. With 1150 students, 109 of whom are boarders from over 20 countries worldwide, St. George's School truly is Canada's World School for Boys.
MISSION
Building Fine Young Men. One Boy at a Time.

Our Mission is to inspire our students to become fine young men who will shape positive futures for themselves, their families, and the global community. Through a broad and inclusive program, our students will be educated and prepared for life. They will possess a solid knowledge base in a wide range of disciplines, as well as core academic skills combined with 21st century global skills. During their time at Saints, they will also develop key virtues such as empathy, humility, integrity, resilience, respect, and responsibility. They will be inspired to become good men!
VISION
Canada's World School for Boys
Our Vision is to be recognized as Canada's World School for Boys. We aspire to be a school of international significance, one that will graduate young men with a global outlook who are able to meet the challenges of a complex and rapidly changing world. Through its diversity, our student body will be more representative of the larger world beyond our campus.
Images are provided by schools and/or sourced from school's website and/or school's social media platforms.
St George's| Click to view Video
Key Facts
School Type: Traditional
Grades (Gender): 1 – 12 (Boys)
Tuition: $ 23,384 – 71,490
Average Class Size:  Varies
Enrollment Day: 1,040 (1 – 12)
Enrollment Boarding: 110 (8 – 12)
Contact Person: Gordon Allan
Careers & Hire History at St George's
Submit a Comment, Review or Testimonial
Share your experience with this school as a parent, student, or educator.
Be the first to leave a review. 
St. George's School | SchoolPress Posts
There are no upcoming events to display at this time.
Request/Submit Profile Updates
School Administrators, use this form to submit express updates.
Office
1001 Lenoir Ave, Suite B-111
Montreal, Quebec H4C 2Z6
Hours
M-F: 9:00 – 17:00
S-S: By Appointment
Call Us
(888) 509-7202
(514) 350-3519