Summit West Independent School
Summit West Independent School
What Summit West Independent School says..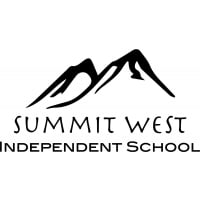 Summit West Independent School offers an individualized self-directed learning approach for tomorrow's leaders that nurtures lifelong learning, engaged thinkers and ethical citizens within a spirit of entrepreneurialism.
We offer a full-time kindergarten program for children in a play-based environment. Students are introduced to letters, numbers, and reading readiness through activities they choose based on their interests. Children are engaged and have fun while learning the fundamentals that will form a solid foundation for their future. We also provide learning through music, physical education activities, and field trips.
Our kindergarten to grade four program teaches students how to use their interests to complete objectives through our student-directed program. They learn how to make good choices in their learning through teaching styles and use their personal interests to keep school fun!
The grade 5-12 program at Summit West challenges students to become more responsible learners by providing them with more choice in their learning. Students determine how long they need to complete their objectives, how they are going to learn the material, and how they will show what they have learned. Through collaboration with teachers and peers, students learn to use resources effectively and how to manage their time effectively.
Key Facts
School Type: Progressive, Learning Differences Support, Self Directed Learning
Grades (Gender): JK – 12 (Coed)
Tuition: $ 9,460 – 11,200
Average Class Size:  Varies
Enrollment Day: 55 (SK – 12)
Head of School: Brad Masterson
Careers & Hire History at SWIS
Submit a Comment, Review or Testimonial
Share your experience with this school as a parent, student, or educator.
Be the first to leave a review. 
Admissions Consulting & Education Services
Viewing School Profiles
Click  'School Name"  >  Scroll List  >  Select a School  >  Click 'Search'
Request and Submit Profile Updates
School Administrators, use this form to submit express updates.
Last Update: 20.05.18
[post-views]
Office
1001 Lenoir Ave, Suite B-111
Montreal, Quebec H4C 2Z6
Hours
M-F: 9:00 – 17:00
S-S: By Appointment
Call Us
(888) 509-7202
(514) 350-3519