St. John's School
What St. John's School says..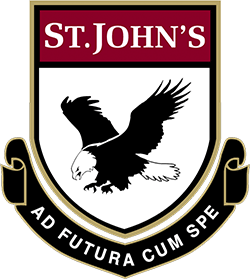 We are a community of teachers, students, administrators and parents that work together to ensure everyone is healthy, accepting and safe. A St. John's education is shaped by individual attention, small class sizes and a culture of collaboration, caring and respect. The rigour of the IB curriculum means our students and staff are challenged every day. They are challenged to learn about themselves, the world around them and what talents, skills and interests they have and can develop to make an difference in the world.
MISSION
To inspire academic excellence in our students who will graduate as confident learners and pursue their goals with passion, integrity and respect for others within the global community.
VISION
To be recognized internationally as a leading independent school with a global approach to learning.
CORE VALUES
Character, Diligence, Loyalty and Service
CURRICULUM
International Baccalaureate Continuum School Primary Years Programme, Middle Years Programme, Diploma Programme
Images are provided by schools and/or sourced from school's website and/or school's social media platforms.
St. John's Kindergarten Program
Key Facts
School Type:
Traditional, International Baccalaureate, University Prep
Grades (Gender):
K to 12 (Coed)
Tuition:
$ 8,800 – 22,625 ($2,000 New Student Fee)
Average Class Size:
15
Enrollment Day:
 570 (K – 12)
Contact Person:
Susan Liang (Admissions)
International Applicants:
Visit this link
Employment Opportunities & Hire History | St. John's School
October 1, 2018 – MYP Drama Teacher
July 25, 2018 – Senior School Teacher Associate
July 3, 2018 – Design & Film Teacher
June 12, 2018 – Teacher Associate
June 11, 2018 – University Advisor
June 1, 2018 – MYP/DP Math Teacher
May 11, 2018 – PYP Kindergarten Teacher
May 7, 2018 – MYP Coordinator Assistant Head
May 7, 2018 – MYP/DP French Teacher
May 2, 2018 – PYP Physical Education Teacher
April 25, 2018 – Art & Drama Teacher
April 25, 2018 – MYP Phys. Ed. Teacher
April 17, 2018 – Drama & Art Teacher
April 11, 2018 – MYP Mathematics Teacher
March 16, 2018 – Drama Art Teacher Middle School
March 15, 2018 – Associate Teacher Junior School
March 13, 2018 – Physical Education Teacher Senior School
December 1, 2017 – Junior School Associate Teacher (6 Month Contract)
November 21, 2017 – Associate Teacher – Senior School 
November 3, 2017 – Junior Kindergarten Teacher – One year Maternity Leave
October 17, 2017 – Junior School Counsellor
September 7, 2017 – Marketing and Communications Manager
St. John's School Career Page
View all positions posted on SchoolAdvice
School Administrators – Submit a Career Opportunity
Submit a Comment, Review or Testimonial
Share your experience with this school as a parent, student, or educator.
Be the first to leave a review. 
There are no upcoming events to display at this time.
Request/Submit Profile Updates
School Administrators, use this form to submit express updates.
Contact us to review all of your school options.
The first 30 minutes are always free.