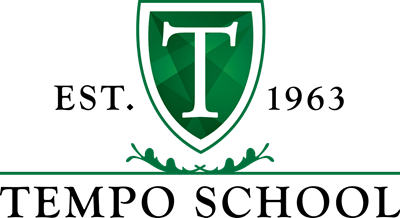 Tempo School is a private school in Edmonton that offers a traditional approach to academics and adheres to traditional learning methods. With specialized teachers, smaller class sizes, and a clear curriculum, it is no wonder Tempo School has been consistently rated as one of the top schools in Alberta. Tempo also offers other benefits that might be less obvious. We call this the Tempo difference.
You notice the Tempo difference the minute you drive into the parking lot. In the morning, the headmaster greets parents as they drop off their children for the day. At Tempo School, there is no such thing as parent/teacher interviews: communication is open and transparent. Every day is an opportunity for parents to connect with teachers and to be a part of their children's success.
If you walk through the Tempo hallways, you notice that teachers greet students by name. This environment, in which all children are recognized for who they are, breeds a sense of closeness and confidence in the students. This environment also fosters a safe space in which students learn and grow academically, excel, and do great things.
All students understand that serious academic education is the priority at Tempo School. While this is undoubtedly the case, a strong sense of community exists.  Most students attend the school from kindergarten to grade 12 resulting in a bond that is formed among students from an early age.  You will often find, for example, students collaborating and working together to help one another to succeed. All students take pride in moving forward together and doing well as a group. Nevertheless, a healthy competitive spirit prevails among students as they are naturally motivated to try to do their best.
Key Facts
School Type: Traditional, Academic
Grades (Gender): K to 12 (Coed)
Tuition: $ 3,300 – 8,250
Average Class Size: Varies
Enrollment Day: 380  (K – 12)
Contact Person: Jana Walters, Head of Lower School | Sandra Andrais, Head of Middle School | Dr. Richard Slevinsky | Head of Upper School
Careers & Hire History at Tempo
Submit a Comment, Review or Testimonial
Share your experience with this school as a parent, student, or educator.
Be the first to leave a review. 
Admissions Consulting & Education Services
Viewing School Profiles
Click  'School Name"  >  Scroll List  >  Select a School  >  Click 'Search'
Request and Submit Profile Updates
School Administrators, use this form to submit express updates.
Last Update: 20.05.19
[post-views]
Office
1001 Lenoir Ave, Suite B-111
Montreal, Quebec H4C 2Z6
Hours
M-F: 9:00 – 17:00
S-S: By Appointment
Call Us
(888) 509-7202
(514) 350-3519