School of Alberta Ballet
School of Alberta Ballet
School of Alberta Ballet, Edmonton
What The School of Alberts Ballet says..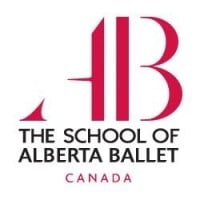 The School of Alberta Ballet has studios in Calgary and Edmonton.
The Calgary studios offer a Professional Division for students aspiring for a career in the dance industry and an Open Division for students who want to dance at more a recreational level.
With facilities in the heart of downtown Calgary and a residence that provides a home away from home for out of province and international students, the School of Alberta Ballet provides each student with the dance, life and academic skills to launch a professional career.
The Professional Division at the School of Alberta Ballet is a full-time dance and academic training program for students in grades 7 through 12, with a part-time, dance-only option for those in grades 5 and 6. Launched in September 2015, the Dedicated Contemporary Dance Stream is available to students in grades 10, 11 and 12 who wish to place more of their training focus on this dance style.
The School of Alberta Ballet's Open Division offers classes for everyone from preschoolers to adult beginners, right up to advanced students seeking a more intensive program. You can find us at our studios in downtown Calgary, and at our Edmonton location at the Ruth Carse Centre for Dance.
A Post-Secondary Program is also available for students seeking post-secondary training.  Admission to the School of Alberta Ballet's Professional Division is solely talent-based with successful candidates being chosen through our International Audition Tour. Financial assistance and scholarships are available to all auditioning students, including select boys' scholarships awarded to talented, young male dancers.
Images are provided by schools and/or sourced from school's website and/or school's social media platforms.
Key Facts
School Type: Arts Focused, Liberal Arts
Grades (Gender): 5 – 12 (Coed)
Tuition: $ 5,5000 – 37,000
Average Class Size:  8 – 15
Enrollment Day: 90 (5 – 12)
Enrollment Boarding: 45 (7-12)
Contact Person: MyAn Pacholkow
Post a Review or Comment about this School.
Employment Opportunities at The School of Alberta Ballet
There are no upcoming events to display at this time.
Request/Submit Profile Updates
School Administrators, use this form to submit express updates.
Contact us to review all of your school options.
The first 30 minutes are always free.