Physical Education Teacher
Lycée international de Calgary
4099 Garrison Blvd. S.W.
Calgary, AB
French Ministry of Education, Alberta Education and CAIS accredited French bilingual school, about 450 students total, is seeking a full-time Physical Education Teacher beginning late August 2023.
Founded in 1966, Lycée international de Calgary is a non-denominational independent French international school providing a challenging and stimulating bilingual education within a multicultural and multidisciplinary environment. We are Calgary's premier French School, the only pre K to Grade 12 school in Western Canada both accredited by the French Ministry of Education and Alberta Education. As a member of the AEFE, we are part of a network of 500 schools in 140 countries.
The Physical Education Teacher reports directly to the Director of the English Program. They ensure that all students are appropriately supported, can progress academically and successfully grow in their emotional and social needs. They work in close collaboration with the Secondary School and Lower School Principals, and the Head of School regarding all academic decisions. They work with all school constituencies, including Faculty, Administration and Parents, to update the program with the necessary changes and to ensure physical education is an enjoyable and rewarding experience for students.
The Physical Education teacher is responsible for teaching, preparing and delivering subject matter to students via deliberate and engaging pedagogy. The Physical Education Teacher will liaise with other teachers, coordinators and administration as necessary to deliver the program in a manner that appropriately supports, nurtures and challenges each student to reach their fullest academic, intellectual, social, emotional and physical potential. The Physical Education Teacher conducts the student's program in a manner that is in keeping with both Lycée mission, policies and procedures, along with the highest standards of professional competence and ethics. The Physical Education Teacher has a critical role in executing the vision, mission, and philosophy of the Lycée.
The Physical Education Teacher duties include but are not limited to:
Plan and discuss educational program with administrators.
Develop lesson plans and instructional materials.
Teach students in accordance with Alberta Education standards.
Teach to students Physical Education in accordance with The Minister of French
Education standards.
Individualize instruction in order to adapt the curriculum to the needs of each student.
Provide required instructional accommodations to address student learning styles.
Establish and maintain standards of student behaviour needed to achieve a highly functional learning environment in the classrooms.
Maintain student discipline by establishing and communicating positive, appropriate expectations/rules/procedures with students and enforcing them with consistency, fairness and firmness.
Cooperate with the administration when support for discipline is necessary.
Evaluate students on an ongoing basis.
Selects and requisitions physical education equipment; maintains required
inventory records.
Administrator standardized Alberta Education testing and Ministry of France
testing.
Take a leadership role in developing the curriculum and promoting it in school and throughout the community.
Supervise students out of the classroom as required.
Serve on curriculum and standards committee.
Attend faculty, instructional leaders and school meetings.
Lead extracurricular activities as required (volleyball or badminton for example).
Attend and participate in provincial and national associations and conferences.
Present professional development for teachers and staff.
Engage in healthy and meaningful collaboration with teachers and staff.
Model citizenship through positive and respectful interactions with students and all community members.
Provide families with the information necessary to support their student and the program, including but not limited to homework assignments and upcoming class events.
Enhance good relationships between the school and families by fostering a respectful, cordial, and professional relationship with parents, guardians, and other family members.
Engage in the events of the community.
Required skills:
Strong classroom management skills.
Strong knowledge of child development, second language and content acquisition, and best practices in teaching and assessment.
Demonstrated teaching skills and mastery of the subject(s) taught.
Bachelor of Education
Valid Alberta Teaching Certificate (or eligible for an Interim Teaching Certificate)
Solid understanding and appreciation of the philosophy and unique goals of Lycée Louis Pasteur.
Ability to speak French an asset.
A passion for children, including an understanding of and respect for students' individual learning styles.
The Physical Education teacher is evaluated on an ongoing basis by the Director of the English Program and follows a self-directed program of professional development, which is created in consultation with the Head of School.
Term: One Year
Start date: August 28, 2023
Salary: Competitive, commensurate with experience.
Benefits: Participation in our group benefits program including but not limited to – medical, dental, long-term disability, life insurance, and RRSP plan.
Other:
First Aid training
Police check (with vulnerable sector)
Able to obtain Alberta Teaching certificate
Application Deadline: August 25, 2023, however, if necessary, the posting will remain open until filled.
To apply, please send your resume, cover letter and a statement of your educational philosophy to Joya Brooks, Director of the English Program. Please submit in PDF format preferably via email to [email protected]. For further information on the Lycée Louis Pasteur please visit: www.lycee.ca
Please note that only those selected for an interview will be contacted. Thank you for your understanding.
The above statements describe the general nature and level of work being performed by individuals assigned to this classification. This is not intended to be an exhaustive list of all responsibilities and duties required of personnel so classified.
As an equal opportunity employer, Lycée Louis Pasteur does not discriminate in its hiring of employees on the basis of race, color, sex, sexual orientation, religion, creed, national origin, citizenship, marital or veteran status, age, or disability. We actively seek diversity among faculty and administration, as well as among students.
Job Types: Full-time, Permanent
Salary: $35,693.34-$91,527.73 per year
Benefits:
Dental care
Extended health care
Paid time off
Vision care
Flexible Language Requirement:
Schedule:
10 hour shift
8 hour shift
Day shift
Evening shift
Monday to Friday
Ability to commute/relocate:
Calgary, AB T2T 6G2: reliably commute or plan to relocate before starting work (required)
Education:
Bachelor's Degree (preferred)
Experience:
teaching: 1 year (preferred)
Expected start date: 2023-09-05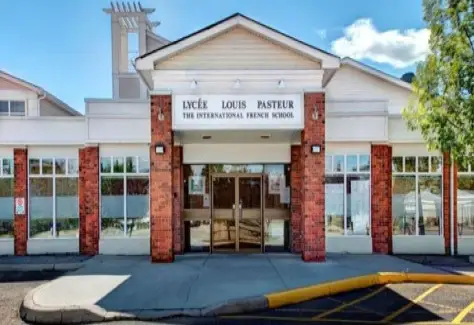 Office
376 Victoria Ave. #200
Westmount, Quebec H3Z 1C3
Hours
M-F: 9:00 – 17:00
S-S: By Appointment
Call Us
(438)-300-6190
(866)-300-9181