Guardianship
Who needs it? What is it?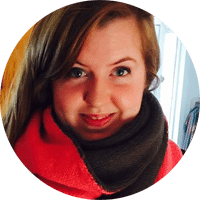 ​There are many benefits to experiencing a Canadian education, both inside and outside of the classroom. Studying in Canada is an excellent way for your child to experience a multicultural landscape as well as to pursue and experience personal and academic growth in order to reach their full potential. Aside from all of these educational benefits that Canada has to offer, there are many other things to think about before sending your child to study in a new and different country. One such thing is guardianship. What is it? 
Which Students Need Guardianship?
Citizenship and Immigration Canada requires unaccompanied foreign students studying in Canada to have a legal guardian in place if the child is under the age of majority. The age of majority may differ depending on the province. If your child will be studying in Quebec, Alberta, Manitoba, Ontario, Saskatchewan, and Prince Edward Island, the age of majority is 18 years. In British Columbia, Nova Scotia, Newfoundland, Northwest Territories, Nunavut and Yukon, the age of majority is 19 years.
Immigration, Refugees and Citizenship Canada (IRCC) requires all applicants under the age of 18 who are applying for an initial Canadian Study Permit or renewal to provide a Notarized Custodianship Declaration as part of their Student Permit and Visa application. The guardian or custodian remains on file with the Canadian Government as your child's local representative. This original document must be completed and notarized by the Guardian/ Custodian as well as natural parents.
Have a Question? Ask Katie Nicol at SchoolAdvice
How to Obtain Legal Guardianship?
Applicants must submit a notarized declaration signed by the parent or current legal guardian in their country of origin, as well as one signed by the pointed guardian in Canada. This declaration states the arrangements that have been made for the guardian or custodian to act in place of the parent in the student's new country. Canadian government officials receiving this document must be satisfied that adequate arrangements are in place for the care and support of the minor. 
The legal guardian for the student must reside within an appropriate distance from where the student will be studying and living full-time as they will be closely monitoring the well-being and success of your child as they adjust to their new environment in Canada. Guardians will be the support system needed by the student throughout their stay in Canada and should be available 24 hours a day, 7 days a week for any issue that may arise. They will be in continuous contact with the child's school, teachers and parents to ensure a smooth transition and a successful year of studying abroad.
In order to initiate a recognized Custodial Guardianship relationship in Canada two notarized documents are required. First, a Custodian Declaration is made by the person who will be serving as the student's guardian. The document confirms that the individual is local, lives within a reasonable distance and is available and willing to represent the parent's interests in ensuring that the student has appropriate support and care. 
An accompanying document is required by the parents, this is the Parent Declaration which is produced by the parents of the students. This document reaffirms that the natural parents give permission to the assigned guardian or custodian to act on their behalf while the minor-aged student is in another country. 
Once the completed application for Custodial Guardianship has been received, a draft of the declaration will be sent for you to be reviewed to ensure accuracy of information. Once this has happened, the document is then ready to be signed, notarized and sent directly to you so as to be included in the student's application for a study permit to enter Canada.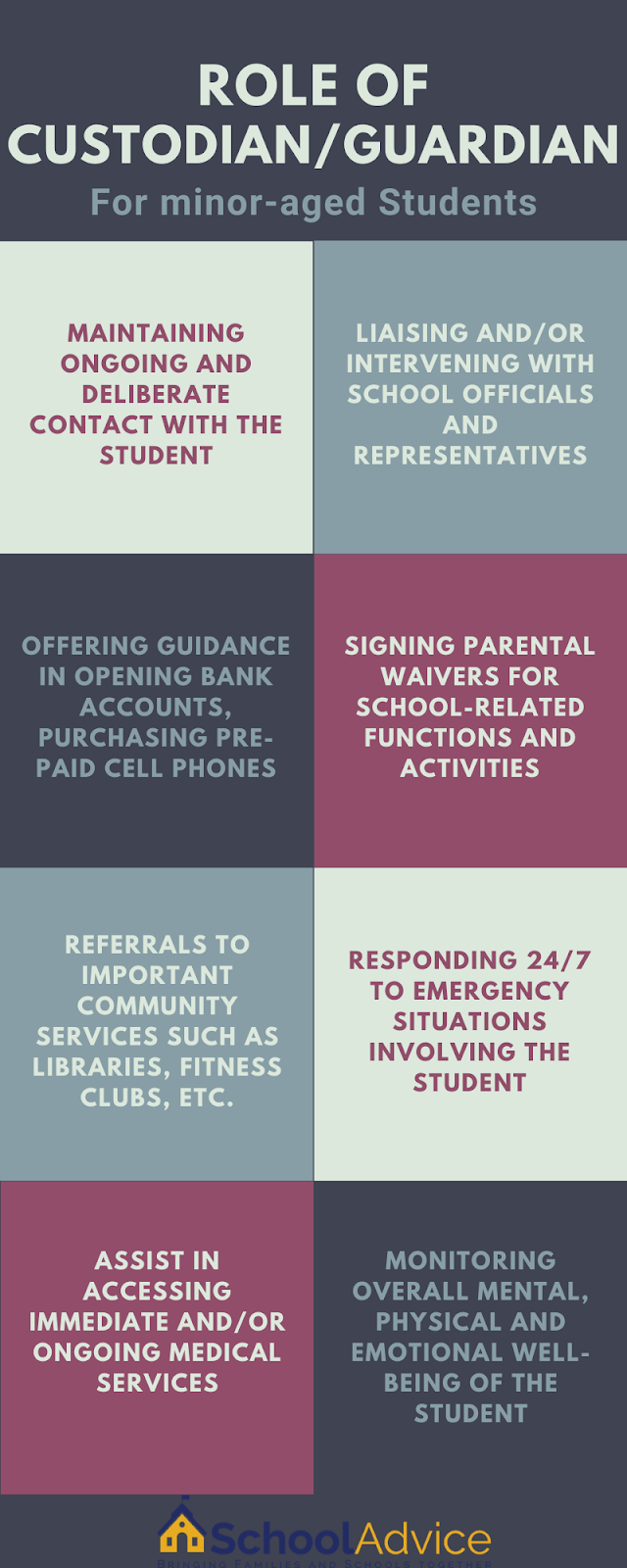 Finding a responsible, legal guardian for your child may feel like a daunting task, but SchoolAdvice has all the services you require to ensure your child feels secure and has a successful school year. With the SchoolAdvice Guardianship program, you will be able to put your mind at ease knowing that your child is under the caring and watchful eye of a SchoolAdvice guardian. SchoolAdvice is able to provide a comprehensive guardianship program that begins from the moment your child's plane lands in Canada until they return home. The guardian will act in place of parents to provide assistance with emergencies, accommodation, immigration, travel, and the overall success of your child's education.
Some service options of the SchoolAdvice program include, 24/7 emergency phone access which will help to ensure your child's safety at all times, this is of course, being our top priority. We can also provide assistance with setting up a Canadian bank account and medical insurance, as well as travel services including pick up from the airport and drop off at their new home, away from home. In addition, SchoolAdvice guardians will also be able to attend parent/teacher interviews, as well as serve as a personal and educational advisor for your child as they progress through their academic career to provide mentoring and counselling to students.
SchoolAdvice Custodians or guardians are more than that, they are also professional educators with ample experience working with students in education. They are qualified professionals with a passion for helping students set themselves up for success during their academic stay.