What Trinity Christian School says..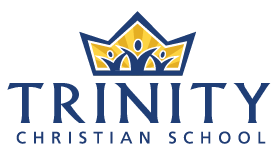 Trinity is a parent-owned and operated independent Christian school (JK – 8) where learning complements the values of the Christian home and church. Trinity has served Burlington and the surrounding Halton Region for five decades, and we continue to provide accessible, high quality education with Biblical values in a safe and caring environment. Trinity is also an interdenominational school that brings Christian children and families together. Almost 50 Burlington-area churches are represented within our student body.
Mission
Trinity exists to awaken curiosity, nurture faith, and inspire learners to reflect Jesus everywhere.
Vision
For God's glory, Trinity will be a school where
Students consistently integrate knowledge, faith, and service
Teachers and staff model lifelong learning and a love for Jesus
Parents, caregivers, and supporters willingly participate in school life
Together, we serve the broader community
Key Facts
School Type: Traditional, Faith Based
Grades (Gender): JK to 8 (Coed)
Tuition: $ 8,000 – 20,000
Average Class Size: Varies
Enrollment Day: 240  (JK – 8)
Head of School: Jean-Daniel Lussier
Contact Person: Kim Abela, Communications & Office Administrator
Careers & Hire History at Trinity Christian
Submit a Comment, Review or Testimonial
Share your experience with this school as a parent, student, or educator.
Be the first to leave a review. 
Admissions Consulting & Education Services
Viewing School Profiles
Click  'School Name"  >  Scroll List  >  Select a School  >  Click 'Search'
Request and Submit Profile Updates
School Administrators, use this form to submit express updates.
Last Update: 20.05.21
[post-views]
Office
1001 Lenoir Ave, Suite B-111
Montreal, Quebec H4C 2Z6
Hours
M-F: 9:00 – 17:00
S-S: By Appointment
Call Us
(888) 509-7202
(514) 350-3519