McDonald International Academy
McDonald International Academy
McDonald International Academy
What McDonald International Academy says..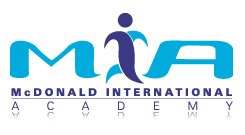 About MIA
Established in 1994, McDonald International Academy (MIA) is a fully registered and accredited secondary school inspected by the Ontario Ministry of Education and Training (Official Training Number: 876674).
Since our inception, over 10,000 students from over 40 countries have graduated from MIA and successfully entered many famous universities and colleges in Canada and the United States.
Why Choose MIA?
Small Classes
Our small classes afford opportunities for the respect and recognition of student achievement. Our class sizes range between 15-25 students, allowing more time for students to interact and communicate in the class while developing independent reasoning, and creative thinking skills.
Advanced Placement (AP) Program
Advanced Program (AP) is most enrichment learning program in North America, which consists of a year-long course of enriched study in a specific subject, followed by an exam in May. The purpose is to prepare our graduates for better academic success in their university studies.
High University and College Entrance Rate
Each year approximately 300 students graduate from MIA and successfully enter top Canadian and U.S. universities and colleges. 20% of our graduates receive University Entrance Scholarships between CAD $500.00 to $10,000.00. based on their superior academic achievements.
Key Facts
School Type: Traditional, University Prep
Grades (Gender): 9 – 12 (Coed)
Tuition: $ 10,000-29,300
Average Class Size:  10 – 20
Enrollment Day & Boarding: Varies (9 – 12)
Head of School: Fraser Rose
Contact Person: Admission Team
Careers & Hire History at MIA
Submit a Comment, Review or Testimonial
Share your experience with this school as a parent, student, or educator.
Be the first to leave a review. 
Admissions Consulting & Education Services
View 450+ Canadian School Profiles
Viewing School Profiles
Click  'School Name"  >  Scroll List  >  Select a School  >  Click 'Search'
Request and Submit Profile Updates
School Administrators, use this form to submit express updates.
Last Update: 20.06.06
[post-views]
Office
1001 Lenoir Ave, Suite B-111
Montreal, Quebec H4C 2Z6
Hours
M-F: 9:00 – 17:00
S-S: By Appointment
Call Us
(888) 509-7202
(514) 350-3519