Director of Outdoor Education, Senior School
West Point Grey Academy is currently seeking an experienced Senior School Director of Outdoor Education to join our Senior School starting August 28, 2023. This is a 1.0 FTE position.
This posting will close on Friday, March 10, 2023.
Outdoor Education enhances students' knowledge and connections to the natural world. At WPGA, our Outdoor Education curriculum is designed to provide students with opportunities to develop knowledge of ecological issues and bridge connections with other academic programs, such as science and Indigenous education. In addition to coordinating the school's active Outdoor Education program, the Senior School Director of Outdoor Education will steward the school's signature Wilderness Pursuits Program, a full-year multidisciplinary program offered to Grade 10 students that balances in-school learning with backcountry expeditions throughout the year, integrating academic curriculum with experiential opportunities. 
Reporting to the Head of Senior School, this role involves significant planning and excellent communication skills to ensure coordination of resources, schedules, and budget oversight of the school's very active outdoor education program.  
DUTIES & RESPONSIBILITIES
Direct the WPGA Outdoor Education and Wilderness Pursuits programs in keeping with the School's strategic priorities

Ensure BC Ministry and WPGA curriculum is implemented with focus on Core Competencies and First People's Principles of Learning 
Model and promote our core values and high standards of behaviour in and out of the classroom
Actively participate in professional development sessions and faculty meetings
Plan, organize, and facilitate OE programming for all students in Grades 8-12, delivering multi-day field programming in front- and back-country locations for each grade level
Deliver Wilderness Pursuits (WP) the WPGA integrated OE program for grade 10 students
Coordinate department planning, field programming, assessment, and reporting for OE and continue to evolve programming
Advocate for OE & EE throughout the school through curricular and extra-curricular initiatives, including developing partnerships with Physical Education and other academic departments on the integration of OE and EE programming
In collaboration with the Director of Risk & Campus Management, develop and articulate clear standards and protocols for all OE programs to ensure best practices and risk management concerns are adequately addressed
Liaise with the Transportation Manager to ensure the availability of buses and drivers as needed
Maintain personal field specific training and qualifications and continue professional development

Plan the effective staffing of OE programs

Working with the school's HR department, facilitate the hiring and training of additional support staff such as contract guides
Train and support teachers who assist with supervision of OE trips and programs
Work collaboratively with the Senior School Leadership Team to match staff members with trip supervision roles

Plan and manage OE department budget, working with school leadership to provide effective budget oversight

Manage gear and equipment care, repair, and replacement
Provide leadership & maintain relationships among department and 3rd party facilities and service providers

Manage communication of OE programming within the school community (with faculty, students and families)

Support students and families with open, ongoing communication
Work with the school's Enrolment and Advancement Departments to share educational merits and success of OE within the school community, including through school newsletter articles, student reflections and speeches, on school TVs and more

Run an annual Outdoor Recreation event for school staff
QUALIFICATIONS
Bachelor's degree or higher qualification in education
Valid BC Teaching Certification (or demonstration of certification in progress)
Additional qualifications and experience in outdoor education; Diploma in Education — Outdoor Environmental Education would be an asset
Familiarity with the BC curriculum
Relevant experience in outdoor education programming in a Grade 8-12 school environment would be an asset
A passion for and experience working with adolescents
Excellent communication and interpersonal skills
Self-starter and continuous learner who values and has demonstrated teaching innovation and professional growth
Positivity, enthusiasm and a sense of fun
Superior ability to build rapport, trust and relationships with students and their families
Independent school experience is an asset
Wilderness First Aid, Class 4 Drivers License, and other relevant OE certifications is an asset
About West Point Grey Academy
Founded in 1996, West Point Grey Academy (WPGA) is an independent coeducational day school in Vancouver, British Columbia. Set on 18 acres, with sweeping views of English Bay and the North Shore mountains, we offer future-focused programs to 940 students in junior kindergarten to grade 12. WPGA's educational philosophy is to develop the whole child, who, guided by creative, dedicated teachers and supported by our inclusive, vibrant community, is nurtured to achieve his or her full potential — academically, emotionally, physically and socially.
At WPGA, we focus on the individual child, the whole person, and a balanced life. We give each student transformative learning experiences rooted in inquiry, shaped by action, and celebrated with joy. Teaching at WPGA is fulfilling, collaborative and dynamic. Our Leadership Teams support our educators to teach with confidence; create relevant, creative curriculum; build meaningful relationships with students and families; and develop professionally.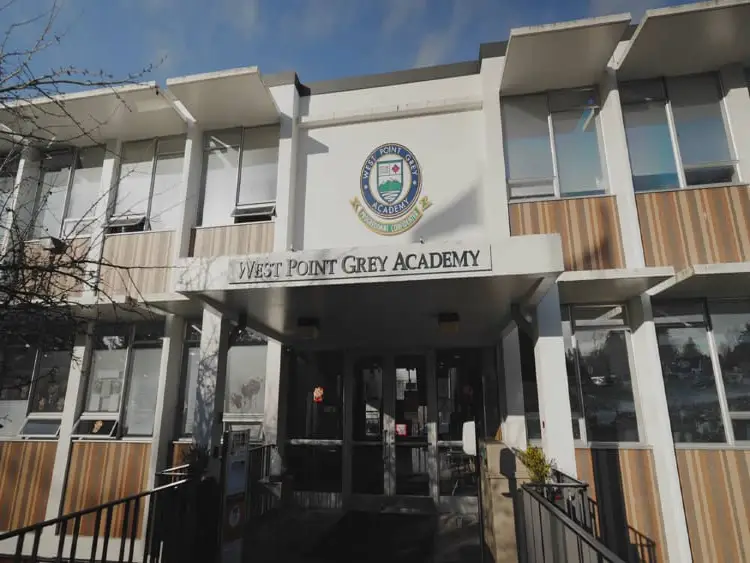 Office
376 Victoria Ave. #200
Westmount, Quebec H3Z 1C3
Hours
M-F: 9:00 – 17:00
S-S: By Appointment
Call Us
(438)-300-6190
(866)-300-9181