French Language Teacher & IB Curriculum Assistant
Summary
St. Margaret's School (SMS) is Western Canada's only girl-centered, independent day and boarding school located in Victoria, British Columbia, Canada on the unceded traditional territories of the Esquimalt Nations, Songhees Nations, and W_SÁNEC Nations. Founded in 1908, SMS is an international centre for girl-centered learning and leadership development, providing empowering education for girls from Junior Kindergarten to Grade 12 (boarding grades 7–12). St. Margaret's School is an International Baccalaureate (IB) candidate school.
St. Margaret's School is seeking a self-motivated, dynamic, and team-oriented Middle and Senior Years IB French Language Teacher with training and experience in an International Baccalaureate setting to create, implement and deliver the course curriculum to students from Grade 8 to 12 and to support the Director of the IB Programme in assisting with the development of the IB programme, including the Theory of Knowledge (TOK) course.
Candidates should have demonstrated excellence in curriculum delivery in French and familiarity with adaptive teaching strategies to accommodate a variety of student learning styles. An additional teaching strength is to create innovative, student-centered, inquiry-focused units of study to multiple levels of student ability that incorporate all areas of global language learning. Fluency in both oral and written French is essential. A mindset for team teaching and interdisciplinary learning is a requirement for this position. This position is ideal for someone who is experienced in supporting IB curriculum development including teacher development.
At St. Margaret's School, teachers are required to participate in the extra-curricular life of the school.
Core Competencies:
Integrity & Trust
Service Orientation
Communication & Collaboration

Resilience
Professional Knowledge

 
 
Job Duties include:
Create, implement, and deliver the French curriculum to students in Grades 8 to 12.
Develop French Language curriculum alignment in the middle and senior school.
Participate in the development and delivery of the TOK (Theory of Knowledge) programme.
Regular collaboration with colleagues to ensure alignment and fluidity of French language learning across grades to create interdisciplinary units, to share ideas and to plan cross-grade / cross-subject activities.
Support the development of the IB programme approaches to teaching and learning, in French as well as other subject areas.
Support the development of IB assessment practices across languages.
Attending regular monthly staff meetings and school-required events.
Preparation of student reports is required, both formal written reports and regular, informal communication with parents.
Presence at school functions is required, including Meet the Teacher Evening, Parent-Teacher Interviews, and IB programme information evenings
Available to attend meetings with parents and colleagues to support the needs of the students in the class.
Work with the team of teachers and Principals to ensure programmes are tailored to meet the unique needs, interests, and ambitions of SMS girls.
Set an inspiring, supportive learning environment to encourage every student in reaching her potential.
Flexibility to deliver other elective courses as needed.
Requirements and Qualifications include:
Current and Valid teacher certification through the Teacher Regulation Branch, or eligibility to obtain a British Columbia Certificate of Qualification.
A minimum of a bachelor's degree in French Language instruction.
Teaching experience at the upper secondary school level.
IB Training and experience teaching within the IB curriculum required.
AIM language training an asset.
Several years' current school experience as a Senior School French Language specialist.
Proficiency and fluency in spoken and written French.
Familiarity working in an inquiry-focused setting and incorporating 21st Century teaching strategies.
Familiar with a variety of teaching strategies to meet the individual needs of girls.
Superior communication, organizational and interpersonal skills in working with colleagues and parents.
Ability to work collaboratively as part of a team.
Willingness to participate in school-wide professional development opportunities and to attend whole school staff meetings.
Actively support and commit to the vision, mission, and values of our school. Valued Benefits
A career with St. Margaret's School will offer you the opportunity to be part of dedicated team of professionals in a dynamic and rewarding educational environment. This position is located on the school campus, with access to rapid transit, on-site gym, and other amenities. * On-campus accommodation is available with this position.
Interested candidates are invited to submit an application package, including a covering letter, curriculum vitae and professional references, quoting the Posting #2022115 in the subject line of your email, by January 15, 2023, to:
Human ResourcesSt. Margaret's School
1080 Lucas Avenue
Victoria, BC V8X 3P7
Email: [email protected]
Hours

1.0 FTE, pending enrolment. (0.57 FTE French Teacher, 0.43 FTE IB Curriculum Specialist)

Beginning mid-end of February 2023.

Salary

Commensurate with placement on the SMS Salary Grid, based on years of teaching experience & education (TQS Category).
This is a bargaining unit position in the Professional Employees Association.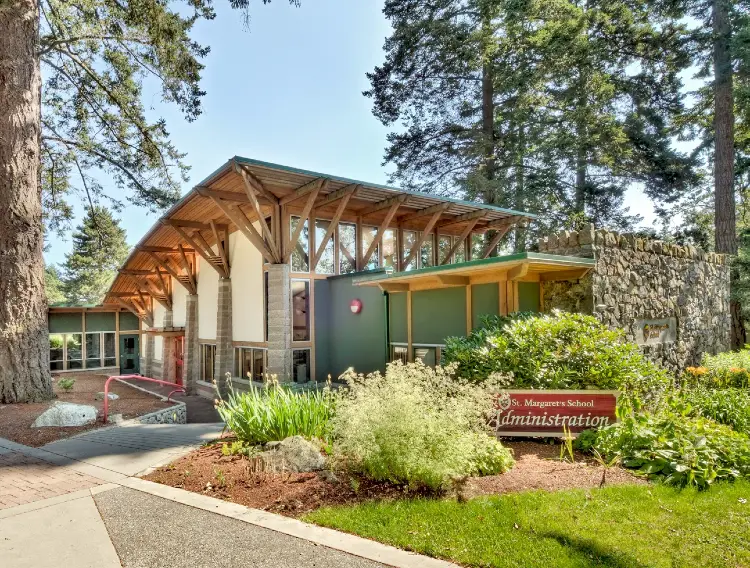 Office
376 Victoria Ave. #200
Westmount, Quebec H3Z 1C3
Hours
M-F: 9:00 – 17:00
S-S: By Appointment
Call Us
(438)-300-6190
(866)-300-9181