Associate Director of Marketing
​Position Purpose & Overview
SJS is a vibrant learning community with continual student, staff and alumni achievements to celebrate. The Associate Director of Marketing at SJS is responsible for strategically promoting the school in alignment with the strategic plan and brand profile. SJS is an active member of the Vancouver, Canada and International Baccalaureate independent school community; the Associate Director of Marketing will ensure that SJS is visible in these communities.
The Associate Director of Marketing is a key member of the Advancement Team, liaison with the staff and faculty, and connection with students and parents. They identify and promote the achievements, passion and expertise that are experienced daily at SJS. They will be in the midst of classes, activities and events at the school documenting how the community and programs are fulfilling the school's mission.
Reporting to the Executive Director for Advancement, the Associate Director of Marketing is responsible for supporting St. John's mission and vision through developing and implementing a communication and marketing strategy that supports the strategic plan, is consistent with our brand and key messages and represents the school to a high professional standard.
The Associate Director of Marketing will oversee the Content & Communication Manager and Marketing Designer to align the communication strategy through print, web and social media in addition to creating inspiring content for these media.
The Associate Director of Marketing oversees, creates and integrates content for the website, e-newsletters, talking points, social media, etc. They will identify and produce appropriate and consistent messaging for all constituents including but not limited to prospective families, the school community and greater community. The role has two distinct audiences:
Externally raising the school's visibility and marketing the school to recruit students (marketing), and
Internally promoting the educational experience to parents, grandparents and alumni – to ensure student retention and to secure philanthropic support (communication)
Key Responsibilities
Marketing
Leveraging the school website to demonstrate our culture and programmes.

Determining the tone and objectives for electronic communication to varying stakeholders including prospect parents, current parents and alumni.
Maintaining the school's visual identity guidelines.
Fostering relationships with independent school organizations including CAIS, ISABC, and IB to promote the school.
Identifying tools and audiences to celebrate school / student achievements and programs.
Monitoring analytics including, website, digital advertising, social media and other key performance indicators to inform decision making and planning.

Archiving visual resources to support academic community events and initiatives.
Communication
Establishing a consistent framework to provide information accurately and timely to the school community.
Managing school documents/promotions, ensuring consistent messaging and tone, including the school newsletters and digital screens.
Reviewing, organizing and editing documentation posted in mySJS.
Leveraging photography and video to produce compelling and emotive content.
This role will require working hours outside of school office hours: often evening events; occasionally going offsite to document student programs; and occasional morning and weekend commitments.
This job profile outlines the key responsibilities for the roles and is not meant to be exhaustive. This will include performing the administrative and related tasks or any other responsibilities required to reasonably meet the needs of St. John's School, including, but not limited to the general duties outlined in the position profile.
It should be understood that the activities, responsibilities and obligations of this position may be modified from time to time, through discussion between the direct supervisor and the employee, in order to effectively meet the requirements of the school. On rare occasions where there are urgent needs at the school, an employee may be assigned to temporarily backfill role(s) critical to the school's operations and business continuity.
Reporting structure
Department: Advancement
Reports to: Executive Director of Marketing
Deport Reports: Content & Communications Manager and Marketing Designer
Key Interactions:

Internal: Advancement team, Admissions team, Teachers, Principals, and Students
External: Parents, Volunteers, Alumni, Media
Position Details
Full time permanent position
Salary range from $80,000 to $95,000
3 weeks of vacation, 2 weeks of winter break, 1 week of spring break
Comprehensive benefits package
Work location: On-site
Required Qualifications and Key Skills
Education & Work Experience
A related undergraduate degree and 5+ years of experience
Proven success in creating content for social media, media relations, blogs, and videos.
Experience working in the education or not-for-profit sector is an asset.
Qualities and Skills
Proven project management abilities.
Strong written and verbal communication skills.
Open-minded, collaborative mindset.
Ability to work in a fast-paced environment.
Ability to prioritize tasks.
The ability to be driven by creative intuition but also to use data to test and prove your gut instincts.
The ability to report results using analytics and course-correct.
The ability to effectively work and communicate cross-functionally within multiple teams.
The ability to build relationships with key constituents and stakeholders.
Familiarity with Google workplace is an asset.
Experience with graphic and content management software.
Attention to detail and an eye for design.
Success Measurements
Parents know how we are fulfilling our mission.
Audiences understand the educational programme.
Increased newsletter readership.
Increased annual giving participation.
Larger annual giving gifts.
Parents understand the benefits of the Arts and Science Centre.
Larger capital gifts and higher capital campaign participation.
Continued philanthropic support.
Community understands the benefits of philanthropic support.
Increased number of prospective families at Information Sessions.
Increased number of applicants.
Increased retention of students.
Conditions of Employment
The successful candidate will be required to complete child abuse prevention training provided by St. John's School and provide consent for a criminal reference check for vulnerable sector.
Clearance on criminal record check for vulnerable sector is a condition of employment.
Applications
All interested candidates should include the following items in their applications:
Resume & Cover Letter
Names, email addresses and phone numbers of three professional references
Copies of any relevant certificates and diplomas
Send to Catriona Cheng, Director of Finance & HR, Email [email protected]
The posting will be active until filled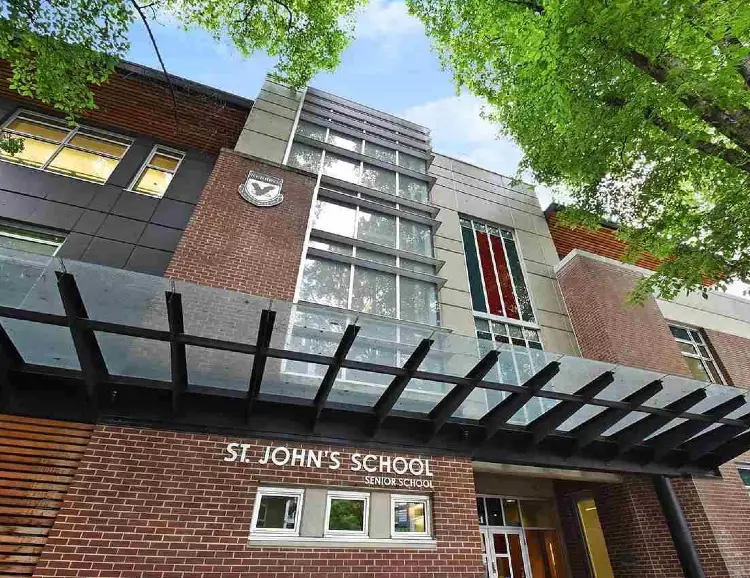 Office
376 Victoria Ave. #200
Westmount, Quebec H3Z 1C3
Hours
M-F: 9:00 – 17:00
S-S: By Appointment
Call Us
(438)-300-6190
(866)-300-9181