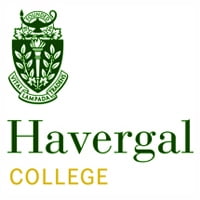 Vice Principal, Student Life and Wellbeing
Situated on a beautiful 22-acre campus, Havergal College is a preeminent independent school for girls from Junior Kindergarten to Grade 12 – a community of 1,000 students, 200 faculty and administrative staff, and 9,500 alumni around the world. Committed to the values of integrity, inquiry, com­passion, and courage, Havergal offers a rigorous curriculum designed around the pillars of academics and wellbeing. The school provides a stimulating and supportive learning environment, a strong liberal arts education, extensive co-curricular opportunities, and boarding for students. Students learn to express themselves with creativity, enthusiasm, and self-confidence, and each student is supported to make empowering choices and become the architect of her education. This foundation develops an attitude of inquiry and a mind open to new ideas and varied perspectives. A Havergal education sets the stage for future success and a lifetime of discovery and learning.
This is an opportunity to establish a newly created role with responsibility for all aspects of a multidisciplinary approach to student wellbeing. Reporting to the Deputy Principal and serving as a key member of the Senior Leadership Team, the Vice Principal, Student Life and Wellbeing will mentor a team of seven direct reports in guidance, health, and student life. This leader will collaboratively develop and implement a comprehensive plan for student wellbeing and student life. With a holistic view of the student experience, the Vice Principal, Student Life and Wellbeing will share knowledge of positive psychology and other wellbeing approaches to support the implementation of Havergal's Wellbeing Framework, advance the integration of wellbeing supports across the school's divisions, and weave the science of wellbeing into the fabric of school programs and curriculum. This leader will understand the degree of wellbeing support that academically driven girls require, and will be committed to promoting a school culture in which every student feels they have a voice, agency, safety, and support.
The Vice Principal, Student Life and Wellbeing will have extensive experience developing and implementing JK-12 programs that enhance student wellbeing. With experience earned as part of a wellbeing, student life, or student support team, or as a division leader, the Vice Principal will have excellent knowledge and understanding of positive psychology and child and adolescent development. Educational qualifications will include a teaching degree, as well as certification and training in wellbeing science, such as an M.A. or M.Ed. in Psychology, a Certificate in Applied Positive Psychology, or other certificate programs in child development and wellbeing. A graduate degree or certificate in educational leadership would be an asset. Leading with warmth, integrity, authenticity, and inclusion, the Vice Principal, Student Life and Wellbeing will be open, collegial, and consultative, with exceptional team management, inter­personal, relationship-building, and communication skills. Deeply committed to advancing the principles of diversity, equity, and inclusion, the Vice Principal, Student Life and Wellbeing will value and actively seek diverse perspectives, designing programs and delivering training in a way that acknowledges and respects the diverse identities that make up a community.
Havergal College is an equal opportunity employer, committed to an inclusive, barrier-free recruitment and selection process and work environment in accordance with the Accessibility for Ontarians with Disabilities Act (AODA). Accommodations are available upon request for candidates engaging in all parts of the recruitment and selection process.
The next Vice Principal, Student Life and Wellbeing will join Havergal in July 2023. Applications will be reviewed upon receipt. While the application deadline is January 20, 2023, the posting will remain active until a successful candidate has been selected. All responses to Caldwell Partners are confidential. Please indicate your interest in Project 221129 at https://caldwell.thriveapp.ly/job/1045.

The complete position profile can be viewed here below.
Office
376 Victoria Ave. #200
Westmount, Quebec H3Z 1C3
Hours
M-F: 9:00 – 17:00
S-S: By Appointment
Call Us
(438)-300-6190
(866)-300-9181